Bangkok, a city imbued with perpetual vitality, offers an enthralling experience to both the nocturnal wanderer and the eager shopper as dusk falls. The city's nightscape, aglow with a kaleidoscope of lights, invites you to amble or indulge in retail therapy. It is our pleasure to unveil a selection of night markets in Bangkok, boasting a colorful variety of markets and pedestrian-friendly boulevards. Make yourself at ease, check-in, and set out on a voyage of discovery.
Best ุ Local Night Markets in Bangkok
Srinakarin Train Night Market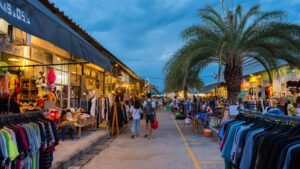 At the Srinakarin Train Night Market, located behind Seacon Square, you can find an extravaganza of night trading. This market stands as a cornucopia of vintage charm, showcasing an array of classic furniture, collectibles, and chic gadgets, alongside traditional barbershops, bookstores, and cobblers. Here, the air breathes an old-world charisma, inviting you to capture memories beside antique locomotives.
Chatuchak Night Market
A bastion of nocturnal commerce for over three decades, the venerable Chatuchak Night Market operates from dawn to the stroke of midnight, accessible through three principal entrances. On Fridays, the market welcomes vehicular ingress for the day, whereas on weekends, parking privileges pause at noon, resuming at 6 PM. Here, a diverse array of vendors purvey apparel, ornamental trinkets, eyewear, and scrumptious street foods.
Jodd Fairs
A stone's throw from Central Plaza Rama 9, Jodd Fairs is cultivated by the creators of the Ratchada Train Night Market. It amalgamates beloved and novel outlets, presenting an assortment of fashion, accessories, and culinary treats. The market's allure is amplified by live music serenading guests every weekend.
Indy Market Pinklao
Ensconced in the Charansanitwong 51 district, Indy Market Pinklao is a sanctuary of dining and style. With its rich tapestry of eateries, ice cream parlors, chic boutiques, and assorted storefronts, it is an idyllic milieu for an evening reprieve.
Khlong Ong Ang
Along the tranquil canal, Khlong Ong Ang Walking Street—akin to an extension of Chinatown—offers a serene promenade. Come evening, the vicinity teems with food stalls serving up savory and saccharine fare ranging from succulent grilled meats to timeless Thai confections and cool beverages.
Yaowarat
Yaowarat, or Chinatown, springs to life when night descends, with its thoroughfares and alleys thronged by a myriad of food vendors. Whether you crave pork skewers, grilled squid, noodle houses, or traditional Thai sweets, the district satisfies every palate. Dining by the roadside here, one is swept up in the dynamic culinary pageantry.
Engage with Bangkok's nocturnal offerings, where the pulse of the city weaves a vibrant tableau of luminosity, taste, and cultural opulence. Each marketplace unfurls its distinctive narrative, creating an enchanting array of shopping, gastronomy, and amusement for both residents and travelers. Embrace the invitation to explore and revel in the spirited heart of Thailand's capital, under the spell of the moonlit sky.
Seeking vibrant nightlife in Chiang Mai? Don't miss our guide to the top bars in town for an unforgettable night.