Ever been up early craving breakfast but everything's nowhere to grab a bite? Worry not! We've listed the Top Breakfast Restaurants in Bangkok, ready by 6-7 AM with delicious options like noodles and porridge. Kickstart your mornings with tasty food, guaranteed!
Top 5 Breakfast Restaurants in Bangkok
On Lok Yun – Where Heritage Meets Breakfast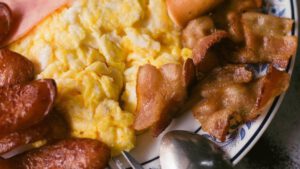 Embrace the elegance of simplicity at On Lok Yun, an institution that has gracefully aged over 80 years. The air here is thick with tradition – a vintage haven where one can relish in breakfast items that are both unpretentious and exquisitely satisfying. From rows of perfectly lined-up fried eggs to the heavenly scent of grilled bread, this venue offers a glimpse into the culinary heart of Bangkok. Situated along the historic Charoen Krung Road, On Lok Yun is more than just a meal; it's a cherished encounter with the past.
Patonggo Savoey Cafe Since 1968 – A New Take on a Thai Favorite
As you wander through the historic pathways of Bang Lamphu, let the Patonggo Cafe enchant you with its audacious spin on a revered Thai staple. Here, patonggo is not merely a doughstick but a canvas for creativity, blending unmistakably Thai flavors with inventive presentations. Whether your preference leans towards the savory or the sweet, this cafe guarantees an innovative culinary sojourn.
Lhong Tou Cafe – A Fusion of Cultures at Dawn
Lhong Tou Cafe's fascinating blend of the traditional and the modern makes it a standout spot for both its diverse menu and its fashionably nostalgic setting. An early bird's haven, the cafe's doors unlock before the sun takes its full perch in the sky. Here, each dish is a testament to modern reinventions of old classics, fused creatively with a taste of the Orient. While savoring the offerings, one cannot help but marvel at the elegant decor that provides a picturesque backdrop to the gastronomic indulgence.
Kope Hya Tai Kee: A Journey Back to Culinary Foundations
Cradling the essence of ancestral Chinese Thai breakfast traditions, the enigmatic Kope Hya Tai Kee presents itself not merely as a cafe but as a passage through time. You're drawn into realms where the grandeur of classic Chinese design complements the ritual of morning coffee. As the city awakes with eager fervor, this revered sanctuary offers a moment of repose, with coffee that bridges past and present, and a peace that lingers even as the whirlwind of city life encroaches.
Jae Hmoy Kia Pork Porridge: The Congee Revolution
Greet the nascent light of dawn with a bowl of Jae Hmoy Kia Pork Porridge's revered congee, a testament to the harmonious union of finely-honed simplicity and rich flavor. Each spoonful of marinated pork, mingling with the velvety rice gruel, pays homage to the everyday epicurean spirit of Bangkok. This congee experience isn't just a meal; it's an affordable luxury, a chapter in the long-standing relationship between Bangkok's citizens and their adoration for the comfort found in a humble bowl of porridge.
Bangkok awakens early, its streets a stage for a morning meal that's more than just food—it's a connection to the city's vibrant history. Breakfast spots open as rays of light stretch across the sky, inviting you in. Here, heritage and innovation sit side by side at the table, each bites a story from the city's rich cookbook. As day breaks, these hubs of nourishment are not just spots to eat, but places to experience Bangkok's unfolding epicurean adventure. So, start your day with an edible slice of local life and feel the city's pulse with every taste.