In the tranquil embrace of Chiang Mai's cool season, the city transforms into a haven of leisure and conviviality. For those on a quest for tranquility, melody, and the invigorating zest of fine beverages, Chiang Mai's array of exquisite retreats beckons. Let us embark on a cultivated exploration of the top 10 sophisticated havens for relaxation and social enjoyment, the best bars in Chiang Mai.
Best Bars to Go in Chiang Mai
Newtown Nimman – A Modern Sanctuary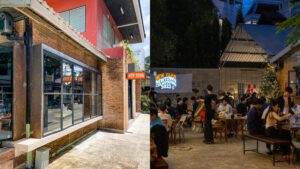 Venture into Newtown Nimman for an ambiance of contemporary charm in the Nimman district. This establishment is a veritable oasis offering a blend of brunch delights and evening brews, enveloped in vintage loft elegance. From sunrise to sunset, its dual identity as a café and nighttime haven for the discerning patron ensures you can while away the hours in sublime satisfaction.
Beer Lab Chiang Mai – A Melting Pot of Flavors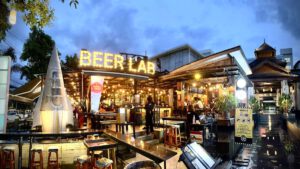 Beer Lab Chiang Mai emerges as an outstanding refuge for enthusiasts desiring an eclectic range of global sips. With an inviting and unhurried atmosphere, this locale marries the joy of a hearty meal with the pleasure of an elaborate drink selection, inviting guests to recline and revel in the present.
Caravan Bar – An Exquisite Retreat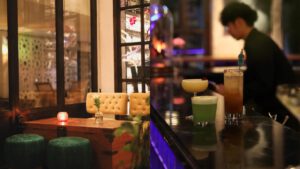 Nestled in the alluring Nimman Soi 9 lies Caravan Bar, a discerning lounge exuding both charm and accessibility. With an array of culinary and libation choices, this establishment delights guests in an environment that balances sophistication and affordability while offering picturesque moments fit for the digital age.
Looper Co. – A Day-to-Night Espresso and Gin Bar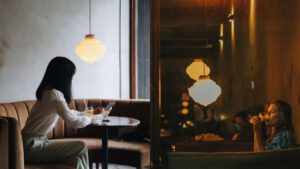 Looper Co., Espresso Bar & Gin Bar, serves as a coffee spot during the day and a chill bar at night, perfect for coffee lovers and those seeking a relaxing drink. This versatile venue invites friends to hang out in a cool, loft-style atmosphere. Looper Co. offers a great selection of drinks, including various cocktails prepared by skilled bartenders.
NUII นุ้ย ヌイ – Inspired by Japan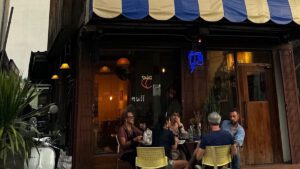 NUII นุ้ย comes forth as a unique Japanese-themed bar that intertwines the essence of a bar with the elegance of umeshu (plum wine). The intriguing nomenclature is but an invitation to delve into delectable cuisine and thirst-quenching drinks within a tranquil setting.
Myst Maya – The Epitome of Cool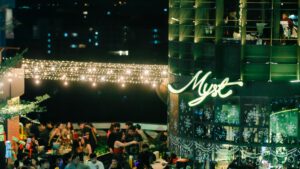 Myst Maya claims its rightful place as an essential stop. When the climate yields to cooler temperatures, this haven offers consummate joy with its signature cocktails—a symposium for those who cherish the bliss of icy concoctions.
North Gate Jazz Co-Op – A Haven for Musical Souls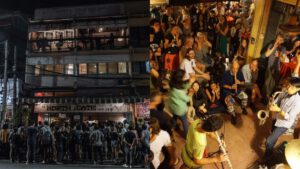 North Gate Jazz Co-Op stands out as a vibrant enclave of melodious live performances and warm camaraderie. A favorite among both the international community and local denizens, this locale brings a distinctive and amicable vibe that charms all who enter.
Moment's Notice Jazz Club – A Compact Elegance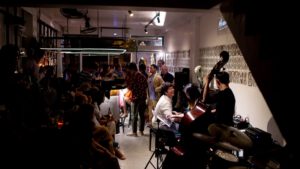 Dive into the soulful serenity of Moment's Notice Jazz Club. Intimate in scale yet grand in spirit, the venue offers a concert atmosphere with a casual pulse, spotlighting a central haven where nightly live jazz captivates and calms.
GROUND Nimman – The Fashionable Choice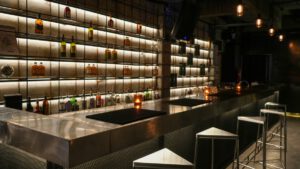 GROUND emerges as a stylish bar adorned with loft-style aesthetics, dark and polished, beckoning a chic crowd. Universally acclaimed for both its auditory delights and delightful concoctions, it signifies the quintessence of cool, particularly among the collegiate community.
Level 9 Rooftop Bar – Sky-High Serenity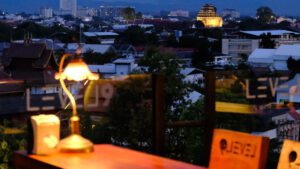 Our curated journey culminates with Level 9 Rooftop Bar, gracefully stationed on the Icon IT building's ninth floor. For breathtaking vistas, particularly on Sundays, a reservation is prudent. Its expansive domain becomes even more enthralling as the cool air descends, offering an idyllic environment for soulful repose.
Embrace the joy of social exploration and make cherished memories in Chiang Mai's finest bars. Looking for things to do in Bangkok? Check out our guide to the top breakfast restaurants!