In the bustling metropolis of Bangkok, one might seek a sanctuary of serenity, a place where the soul can find respite and the body can luxuriate in comfort. We invite you to explore a resplendent array of 10 staycations in Bangkok that promise to transport you to realms of relaxation and unadulterated luxury. Each carefully handpicked retreat stands as a testament to comfort and convenience, imbued with a promise to enliven your senses and alleviate the burdens of travel. Permit us to be your guide through these illustrious abodes, each unique in its charm and opulent in its offerings.
Best 10 S
taycations in Bangkok
The Peninsula Bangkok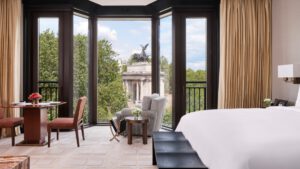 Cradled by the gentle waves of the Chao Phraya River, The Peninsula Bangkok opens its grand doors to a realm of grandeur. Surrender to the embrace of plush king-sized beds, luxuriate in serene baths, connect with the digital world through high-speed internet, and revitalize your senses with exquisite spa treatments. The hotel's swimming pool invites you for a rejuvenating plunge while a slate of healthful activities and gastronomic delights await your discerning palate within its gracious walls.
Centara Grand & Bangkok Convention Centre at CentralWorld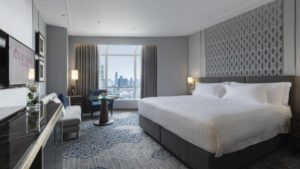 At the very pulse of Bangkok's vibrant heart, this haven offers a regal slumber in its king-sized beds, complemented by the bubbling delights of a private jacuzzi. Revel in the efficiency of daily housekeeping, the modern comforts of an air-conditioned milieu, the allure of a smart TV, and the convenience of sublime in-house dining experiences that satiate the senses.
Ariyasomvilla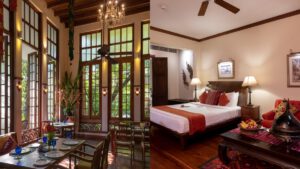 Enfolded in a cocoon of tranquility, Ariyasomvilla extends a generous invitation to a serene escape, where spacious beds, soothing spa indulgences, and savory dining choices await. Immerse yourself in the quietude of its swimming pool, luxuriate in the private jacuzzi, and let your imagination wander in the company of literary treasures housed within the villa's library.
137 Pillars Suites & Residences Bangkok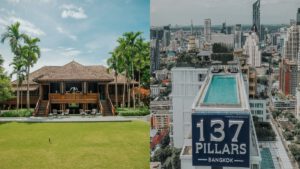 Gracing the city with its presence, this illustrious staycation spot provides an enviable selection between king-sized or twin beds, accompanied by the enchanting acoustics of a Bose sound system. Pamper oneself with calming spa sessions, delight in a panorama from the infinity pool, and indulge in refined culinary journeys, all within the comfort of this sumptuous sanctuary.
Oriental Residence Bangkok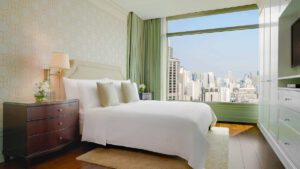 Replete with lavish appointments found in the king-sized bed, spacious living domain, fully-fitted kitchen, and marble-clad bathroom, complete with revitalizing rain showers, the Oriental Residence Bangkok epitomizes luxury. A dedicated desk space caters to work requisites, while a rich catalog of dining venues within the hotel promises a mosaic of flavorful adventures.
Riva Surya Bangkok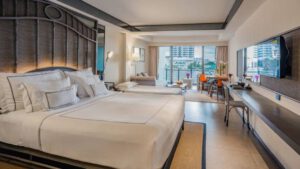 Perched gracefully on the Chao Phraya River's banks, Riva Surya encompasses a wealth of amenities such as plush king-sized beds, dedicated workspaces, and swift internet connectivity, ensuring every convenience is at your fingertips. Indulge in the pleasures of a cooling rain shower, dip into the swimming pool, or savor opulent spa ceremonies—all within the reach of this inviting sanctuary.
Crowne Plaza Bangkok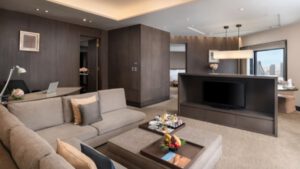 Crowned with the promise of repose, Crowne Plaza unfurls its comforts in the form of well-appointed beds, LED TVs, and convenient internet connectivity. Embark on a journey of wellness with its swimming pool, fitness center, and spa, while a variety of dining avenues cater to the culinary explorer within.
Kokotel Bangkok Surawong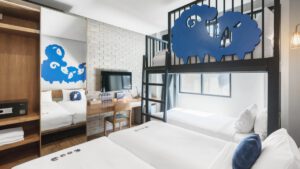 Embracing both familial warmth and practical ease, Kokotel Bangkok Surawong serves as a cherished retreat with its snug double beds, wireless internet, and soothing air-conditioned spaces. A lounge area invites you to unwind, whereas the in-house restaurant and café proffer delightful fare to suit every taste, alongside a play area for younger guests' delight.
Theatre Residence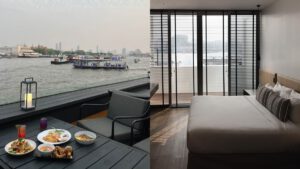 Marrying the elegance of comfort with the joie de vivre of entertainment, Theatre Residence infuses your stay with the comfort of king-sized beds, flat-screen TVs, and opulent bathtubs. Additional amenities such as a kitchenette augment the convenience of your sojourn, while a swimming pool adds a splash of leisure to the experience.
Riva Arun Bangkok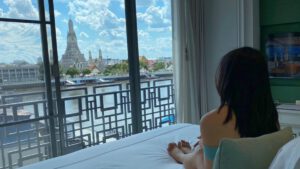 Against the historical tapestry of Rattanakosin Island, Riva Arun awaits modern conveniences including wireless internet and a refreshing LCD TV, balanced by traditional luxuries such as a Japanese-style bathtub for an immersion in pure indulgence.
Enriched with this catalog of stellar staycations, you are armed and ready to embark upon a splendid interlude in Bangkok. These jewels of hospitality extend beyond a pause from the every day—they shape moments and memories infused with personalized delights. Whether your heart longs for a retreat of spa serenity, a cultural odyssey, or an excursion tailored for familial bonds, these sanctuaries present a mosaic of exceptional experiences. Inspire your companions with tales of these paradisiacal locales and commence planning an escapade that beckons with a promise of rejuvenation and adventure. Await no longer; your extraordinary intermission in Bangkok beckons.
Craving a cool and delightful treat on a scorching day? Look no further than our curated guide to Bangkok's top destinations for the most delectable mango desserts!